By Reya Kempley, USAS Strategic Communications Coordinator
COLO SPRGS, CO (Sept. 19, 2023) – Seventeen years ago in Aurora, Colorado, three patient coaches at Cherry Creek Gun Club spent time with a 12-year-old boy who had just started shooting. Like most boys his age, young Tim Sherry had a mind of his own. "I was definitely stubborn and wanted to try things my way first," he recalls. "My junior coaches, Doug Hamilton, Gary Trisdale, and Dennis Fluman, had the patience to teach me the basics…over and over again."
Sherry's Path to Paris had started with a visit to the United States Olympic and Paralympic Training Center in Colorado Springs, Colorado, the headquarters of USA Shooting and home to the largest indoor shooting facility in the Western Hemisphere. Like many wide-eyed juniors who visit this impressive place for the first time, young Sherry was inspired to dream big: "I was pretty excited about the sport from the moment I learned I could go to college and compete in the Olympics in rifle shooting. The idea of making a career out of this sport is the first thing that really got me hooked."
It wasn't long before Sherry realized he had the potential to pursue his Olympic dreams. "When I set the J3 (the youngest junior category) national record…I realized I might actually be good enough to accomplish some of my lofty dreams," he says. In 2012 he chose to shoot for the University of Alaska Fairbanks NCAA Rifle team. Two years of training and competing in the team environment led Sherry to a triumphant year, as he won the Junior Olympic National Championships, earned a place on the Junior World Championships Team, and was the NCAA individual smallbore champion in 2014.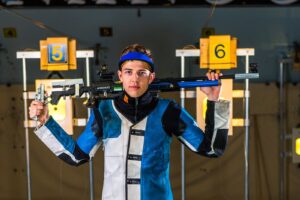 At the conclusion of his collegiate rifle career with a mechanical engineering degree in hand, Sherry faced the same choice all collegiate shooting athletes do: join the workforce or continue to pursue shooting in some capacity. With Olympic dreams, Sherry was not ready to put his rifles in the closet. "I decided to join the Army as I was finishing up with college because it gave me the best chance of accomplishing my goals," Sherry says. "After competing in NCAA for the University of Alaska Fairbanks, I knew how important a team was to [help] me improve."
The Army Marksmanship Unit (AMU) based at Fort Moore, Georgia, welcomed Sherry in 2017 as one of the country's top rifle athletes, offering him a unique opportunity that shooters can't find anywhere else in the United States. "I can honestly say that my shooting has developed so much more than I ever could have expected, thanks to the team we have here! Along with the team, we also have some of the best gunsmiths in the world with our Custom Firearms Shop. They've been an invaluable resource since I've joined the Army," says Sherry. "Lastly, the Army provided me [with] a way to earn a salary while doing the sport I love. The Army provides one of the only routes to truly be a professional shooter. It's been a huge help to be able to make a living while focusing completely on my sport."
That support has propelled Sherry on to continued success. In 2019, he won gold medals in smallbore at both the USA Shooting National Championships and at the Pan American Championships, setting a new Pan American record in the process. Sherry added two more international medals to his collection in 2021 at the International Shooting Sports Federation (ISSF) World Cup in New Delhi in smallbore and air rifle team events. The next year, he won bronze at Nationals in smallbore, a bronze at World Championships in 300 meter standard rifle, and four medals at the Championship of the Americas—two individual (smallbore gold and prone bronze) and two team (silver smallbore men's team and silver prone mixed team).
This year has seen Sherry continue to shine internationally. He earned two bronze medals at World Championships in 300 meter standard and prone rifle events, as well as a fifth place finish in 300 meter three positions. Sherry established himself as one of the best in the world at those disciplines. Still, he maintains perspective: "Instead of focusing on the medals, I went into the competitions wanting to enjoy my performance regardless of the outcome…The medals are a validation of my performance, but I don't want to get too wrapped up in them either. If the performance means more than the outcome on the bad days, it should be the same on the good days too!"
While not in the Olympic program today, the 300 meter events are still contested at World Championships. It appears similar to Olympic smallbore, except for the target distance and the rifle caliber—most rifles are chambered in 6mm BR. "I really enjoy how different 300m is because of the recoil, yet how similar everything else is," says Sherry. "The recoil just feels like an extreme test of my positions and technical skills. I really got hooked on 300m with standard rifle. The rules are similar to air rifle, so there are far fewer adjustments than we normally have on our 50m smallbore rifles. There's something really enjoyable about having basically no adjustments on my rifle. If I shoot well, it's because I performed well! The three-pound trigger is quite a bit different than our other international rifles too, so it's a fun way to mix up the training."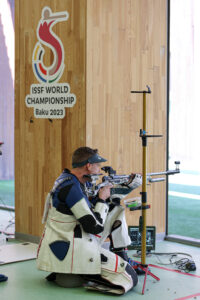 With so much success in both smallbore and air rifle, as well as the non-Olympic 300 meter events, one may wonder how Sherry manages to maintain competitiveness in all three, especially when many athletes eventually choose to specialize in one event. But this model doesn't make sense to Sherry. "I remember a conversation I had with another competitor in college, where they were trying to convince me to stop shooting one rifle to focus on the other," he says. "That just never computed in my mind—I wanted to be elite in both rifles."
Sherry also feels that the technical aspects of all rifle disciplines are similar enough that they can complement each other "The fundamentals that make up a good shot are the same no matter what rifle you shoot."
But beyond that, what enables Sherry to manage this feat is his concept of seeking mastery. "I get a lot of enjoyment out of working on a technique or skill and seeing the progress as I improve on it," explains Sherry. "It's easy for me to get lost in the hard work when I'm focused on the little improvements like these. And it's really rewarding seeing all of those skills come together at a big competition like World Championships!"
You can spot an example of how Sherry seeks to master individual skills before training or a competition, when he warms up on a balance board. He explains, "I've noticed how important balance is for shooting standing, so I looked at ways to make it better and more consistent day-to-day."
Working this hard every day to be elite at every rifle event can lead some to burnout. Sherry combats this by keeping shooting compartmentalized into the professional part of his life. He isn't interested in casual shooting. "I've been pretty invested in the competitive side of things since day one, so that's where my energy has always been," he says. "I even try to avoid sports that remind me too much of shooting (mainly golf). Instead of shooting for fun, I'd rather go for a run, preferably on a trail of some sort. And I'm looking forward to ski season up in Colorado this year."
Working on his 1967 Camaro is another way Sherry mentally removes himself from his professional pursuit. It also provides an outlet for what may otherwise hinder his performance. "I think tinkering with my car keeps me from making too many ill-advised changes in my shooting!" he says.
Now, with less than a year before the 2024 Olympic Games in Paris, Sherry reflects on what it would mean to earn an Olympic berth. "The Olympics have been my goal since before I ever shot a competition, so making the Paris Olympic team would mean so much to me," he says. But ever in the spirit of seeking mastery, Sherry continues, "I'm invested in improving my skill and performing my best at every competition I go to. I'll continue to do that through these Olympic trials this fall and winter, and hopefully I [will] have the opportunity to perform at the Olympics next summer too!"
Sherry's Path to Paris began just as his shooting career did, under the guidance of those patient coaches at Cherry Creek Gun Club. "The lessons I learned from them are too many to count," he says. "I can still hear their words ring in my head as I reject a shot."
He hopes to carry those lessons all the way to Paris, and beyond.